Whether you are a teacher using Google Drive in your class, an administrative professional responsible for organizing Drive, or the Google Apps Administrator responsible for managing your Google domain, you know the struggle. The struggle to feel clear and in control over your (Google) domain.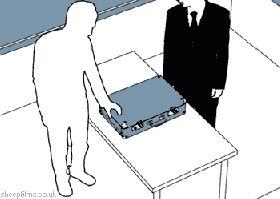 I have tried many approaches to managing my Drive so I don't feel like this. From no folders to elaborate folders and I have finally settled on what I think are the three pieces key to finding what I need when I need it:
A consistent naming convention is your best friend,
When it comes to folders, fewer are better, and
Groups are the only way to share.
There are many good blogs out there to help you manage your Google Drive, like this one from Synergyse. When it comes to creating, sharing, and consistently using one naming convention, here is my approach. It has saved me many times over and takes all the guess work out of finding date-specific files.
Naming Convention Recommendations
For files & folders consider the following options:
Place the calendar year in the beginning of the file name (

ex. "2014-file name"

)
Use this convention for: any file that is tied to a calendar year; archived files from a specific calendar year
Place the year, month & day in the beginning of the file name (

ex. "2014-08-19-file name"

)
Use this convention for events that happen on a specific date (e.g. meeting minutes)
Place the phrase "FY15" in the beginning of the file name (

ex. "FY15-file name"

)
Use this convention for any file or folder that is tied to fiscal year, not calendar year.
Place the word "LIVE" in front of any documents that are modified on a frequent or regular basis (

ex. "LIVE-file name"

)
Include keywords in the file name that help identify the file's purpose. This also will help improve the ability to search for the file in Drive. (

ex. "2014-invoice-file name"

)
Use alphanumeric characters only. Do not use special characters like ampersands (&), quotation marks, and punctuation. Special characters complicate the auto-generated URL to your file or folder. Since ampersands aren't used in URLs, they are replaced by "%20" and quickly become onerous.
Add a description. Any words and phrases in the file's description will be included in searches. This is important for PDFs and for using other words to describe files. For example, a file named "FY15-Expense Report" might need to show up when users search other phrases like: reimbursement, mileage, expense form. Adding these terms to the file description will ensure it shows up when people are searching for it.
We'll cover Google Groups, folders, and sharing in the coming days. In the meantime, Happy Googling!